Nov 09, 2022
By the Rocketship team
India can cultivate a five trillion dollar economy by 2026-2027.
Economists estimate India's current GDP at three trillion dollars, with a sustained growth rate of 8-9 percent in India's real GDP each year. These economic calculations assume a phenomenal economic growth rate that is achievable if parts of the economy work together to reach this goal.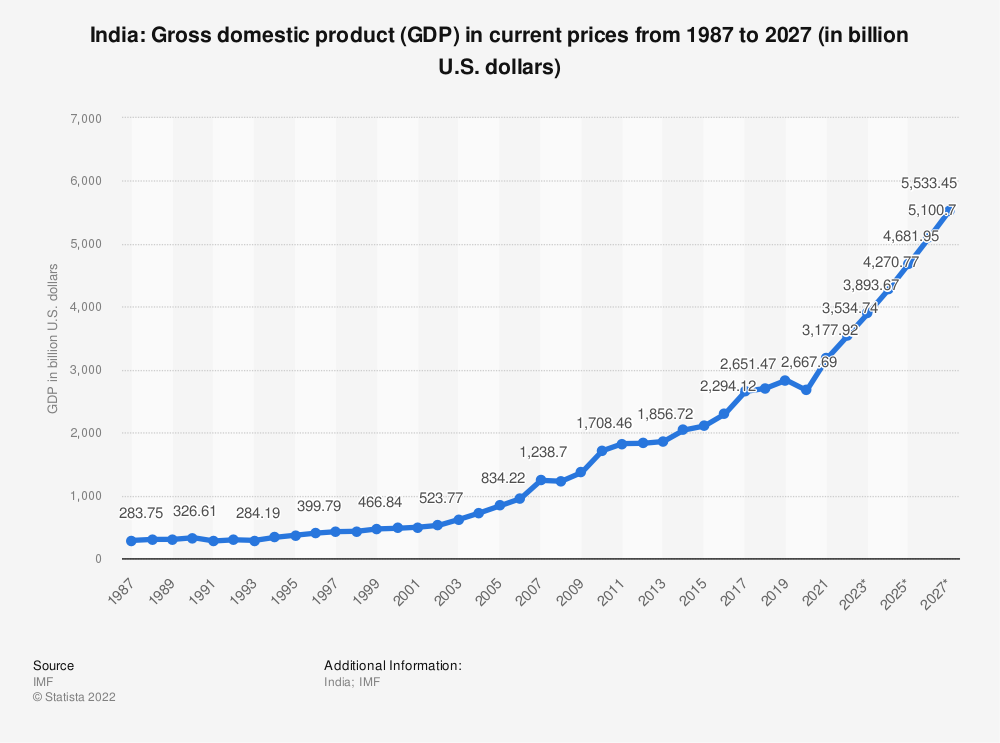 Figure 1: India's actual and projected GDP till 2027. By 2027, India's GDP will reach five trillion dollars. Source: Statista
The Chief Economic Advisor (CEA) of India V Anantha Nageswaran stated that "it is not such a difficult target to reach," addressing the necessary two trillion dollar growth in this short time frame. At Rocketship.vc, we support this outlook, and have a unique perspective as a quantitative investor with a significant portion of our portfolio composed of Indian companies. Through significant data analysis and critical discussions with several founders, fellow investors, and consumers, we identified the key aspects necessary to fulfill this dream: jobs, innovation, education, and access to capital.
Jobs
The most crucial aspect of any growing economy is job creation. McKinsey notes a need for over 90 million non-farm jobs in India. Yet, large employers like the central government, railways, and large corporations struggle to fulfill these needs independently. Data from September 2021 reports that India's labor force participation rate remains low at 46.8 percent. Only 42.3 percent of all individuals actively looking for a job have one. Unfortunately, the Indian economy's youth unemployment rate remains high at 22.9 percent. While India's informal economy remains uncounted in these metrics, it is clear that these participation rates are concerning for a country hoping to create economic growth.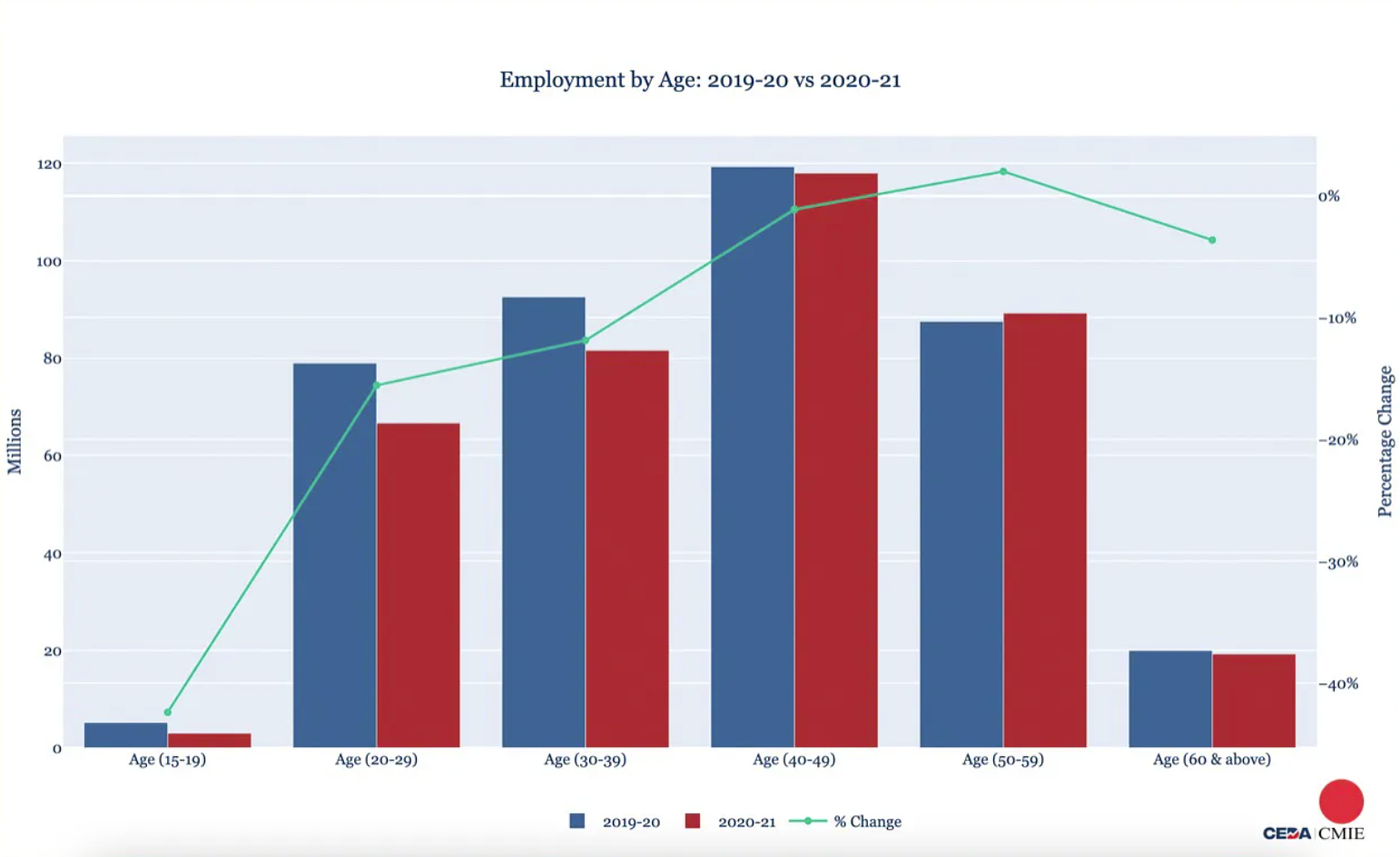 Figure 2: Changes in average employment by age group in India between 2019-20 and 2020-21. Younger workers suffered more job losses in 2020-21 compared to other age groups. Source: CEDA-CMIE/ The Print
Supporting entrepreneurship on a massive scale is a viable way to create jobs. India remains well behind in its rate of industrial development, needing to create over 10,000 new businesses to catch up. The recent successes of startups like Flipkart, Zomato, and Swiggy have inspired younger business-minded individuals to consider founding a company instead of working a salaried job.
However, it is also important to address India's open job listings and positions, many of which have remained unfilled for years. The main reason for this economic inactivity is the gap between the skills necessary for a position and the training young workers receive in high school or at vocational institutions. The mismatch is primarily due to India's revolution in software and information technology jobs, as the country's colleges and universities continue to mass-produce graduates in traditional disciplines like engineering and commerce rather than train them for these newer rapidly-growing industries. Without filling in for this gap, Indian entrepreneurship will find it difficult to see its next evolutionary step.
Companies like Zoho and Freshworks have pioneered a viable way to bridge this gap. These corporations built in-house training facilities - Zoho University and Freshworks Academy, respectively - that induct candidates from diverse and non-traditional educational backgrounds and train them in the skills necessary for company roles. These facilities offer paid training courses, similar to internships, and at the end of the process, the company has a well-trained employee, and the candidate has a guaranteed job, as long as they perform well.
Large companies can replicate this model, creating a customized version of the internship to suit their specific labor needs and trade skills. A program like this also has the potential to address youth unemployment. This training style offers practical education and accessible income to the students while they receive training. On the other hand, employers retain access to a higher quality talent pool they contribute to creating.
Innovation
Throughout history, India has remained an innovative country, as Indians are well versed in "jugaad," the colloquial term for a localized and creative solution to a uniquely Indian problem. As success in high-tech endeavors inspires a new generation, nationals have started to use their jugaad to fuel innovation. To turbocharge this innovation wave, the government has created support programs like "Make in India" and "Design in India," as well as an early-stage venture fund.
Yet, starting a company in India continues to be challenging. Non-automated company formation, a complex tax regime, and complicated labor laws make creating a corporation a daunting task. The Indian government could make the lives of entrepreneurs easier by simplifying the company formation process, setting up tax holidays at the initial phase of a company's life, and suspending the labor laws for companies with less than 50 employees. They could also aid budding companies by simplifying the legal framework surrounding startup investments, which would, in turn, encourage economic activity.
Additionally, the government could build upon their successes in common infrastructure. Through the creation of institutions like the National Payments Corporation of India (NPCI) for payments and the Open Network For Digital Commerce (ONDC) for commerce, the Indian government aids entrepreneurs in creating companies and new jobs. This infrastructure should be further expanded to other areas like insurance, taxation, and payroll management.
But innovation isn't just a government problem. Rather than finding a temporary workaround, innovators must look to permanently solve problems and form a company around their solution. Career employees in established companies should consider founding startups. With their wealth of knowledge and experience, these employees are aware of their industry's problems and often have new out-of-the-box solutions. These problems and solutions often prove generic enough that companies can export their product to customers outside the country, creating the potential for global leadership. Currently, India is on track to become a global supplier of affordable space launch services to customers worldwide. B2B SaaS players in India are following the footsteps of global giants like Freshworks, and building from home, for the rest of the world – with global unicorns counting among their customers.
These innovative solutions allow India to lead the rest of the world and create a significant number of jobs domestically. The ancillary effects of creating new industries within India, through innovation, will ensure that the economic impact is spread throughout the country rather than remain concentrated in urban areas.
Education
Furthermore, job creation and innovation both need a solid foundation of education. Right now, educational institutions have an opportunity to create coursework and curricula to fit the needs of industry: entrepreneurship, leadership, people management, basic accounting, and financial management. Institutions should focus on emerging industries and the skills necessary, such as software, e-commerce, development, and maintenance of high-tech systems.
The government also has a pivotal role to play in this process. The central government can promote economic growth by establishing national labs and centers of excellence, which can lead in creating and localizing technology solutions specific to India. Organizations like The Indian Space Research Organization (ISRO) and Defense Research and Development Organization (DRDO) have already found immense success, as technology developed within these organizations has emerged in the private sector.
While the internships and apprenticeships mentioned above are a critical part of bridging the gap in skills many have, especially when formal education is largely unaffordable to most, it does not mean that formal education and vocational training can be replaced.
Access to capital
Access to capital enables all of the aforementioned economic activity. While India retains its traditional family-based support systems to provide capital to entrepreneurs, formal capital providers, such as banks and Non-Banking Financial Companies (NBFCs), are often extremely conservative. Historically, they only lent money to large businesses with established cash flows in core industrial sectors. It is near impossible that an Indian bank would offer capital to an entrepreneur who wants to start a landscaping business.
India must develop an intermediate class of capital providers who could help entrepreneurs build their businesses. These institutions would offer support and guidance, seeding capital to increase the likelihood of success for these budding companies. The government has several policies and programs, like Micro Units Development & Refinance Agency Ltd. (MUDRA), which serves to aid entrepreneurs with smaller businesses, but the general public remains in the dark about these programs. Additionally, entrepreneurs could benefit from support in completing standard services such as accounting, taxation, and marketing.
Still, a funding gap for setting up small businesses would remain. Most loan providers have minimum net revenue requirements that are not initially reachable for these micro-entrepreneurs. But, this is where community lending platforms would play an important role. In these platforms, local community members could pool their capital to create loans for local businesses that they can then patronize, effectively helping the business and themselves.
We at Rocketship.vc believe that India has the potential to reach 5 trillion in GDP but getting a few things right (job creation, innovation, education and access to capital) are critical to reaching that goal. It requires a joint effort by the government, industry and the general public to accomplish those things and make this decade India's time to shine.
Sources: Economic Times, McKinsey & Company, Statista, The Print, CMIE